meet my newest sponsor, danae, who runs the blog this early tent. she makes wonderful little headbands that make me wish I could crochet! she's quite a sweet gal so don't be a stranger, go to her blog and say hello!






1. Tell us a little about yourself and what you do.



My name is Danae Moran, I live in Fargo, North Dakota, and I will be graduating from Minnesota State University Moorhead with a Social Work degree in December of this year. I am very interested in the adoption/foster care sector of social work (inspired by having 2 adopted brothers of my own). I am a "non-artistic" major, yet most of my hobbies and free time consist of such. I am a young newly married lady with a husband who is also in college. After school is over we hope to take some time to travel overseas, and possibly be involved in some mission work. My family is very important to me, and I try to spend lots of time with my 5 younger siblings who live close by. I am interested in photography, fashion, art, sewing, knitting, and creating pretty things, but above all, my faith is the most important to me. I started my blog, This Earthly Tent, back in 2009, as a way for me to write and share my faith. It has morphed into what it is today, with daily life posts, inspiration, photography, beautiful things, and issues I'm passionate about. I hope you all hop on over to check it out!



2. Who or what inspires you?



I would say the biggest source of my (blogger) inspiration comes from other blogs! There are so many corners of the interweb filled with beautiful styling and imagery that it is impossible to run out of inspiration! I also believe much of my inspiration and styling comes from nature itself and the pure beauty it holds.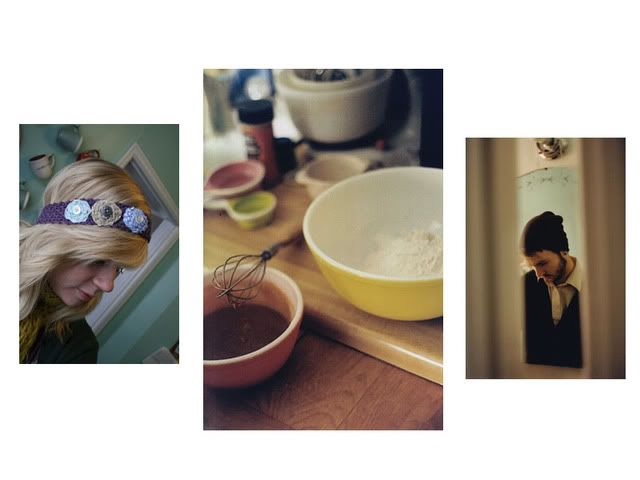 3.

You make darling little handmade goodies! What inspired you to open up a shop?


Well thank you! I started knitting a few years ago, and believe it or not, my husband was the one who first came up with the idea to knit headbands. I deceived to try it out, and was amazed by the interest they received when my friends and family started seeing them. I began selling to people I knew, and it just made sense to start and etsy shop. I just had a booth at my first ever craft fair, and was so blessed by the amount of support and sales I had! I make knitted ear warmers, headbands, and have just started expanding to feather hair pins. I am hoping to continue growing my little business, with the dream of opening a bricks and mortar coffee/vintage/handmade shop with my husband someday!



4. What does a typical day look like?


My typical day begins with spending some time in prayer and devotion in the morning, eating some breakfast with my husband, and getting ready for class. I have classes almost every day, and being a senior, the skipping days are pretty much over. I usually try to grab some coffee sometime during the day - my husband works at Starbucks so that is naturally my favorite. Just like everyone else, I do homework and run errands. Lately I've been very interested in film photography, and recently just purchased a diana mini camera which I keep in my purse, so I often will try and snap a few photos if something/someone grabs my eye. My part time job consists of caring for 2 disabled women about 23 hours a week; and I usually either work on write a blog post at some point through out the day when I can grab some free time!



5. Tell us a random fact about yourself!


Hmmm...well, I really love chocolate and most of my wardrobe is from thrift/secondhand stores!