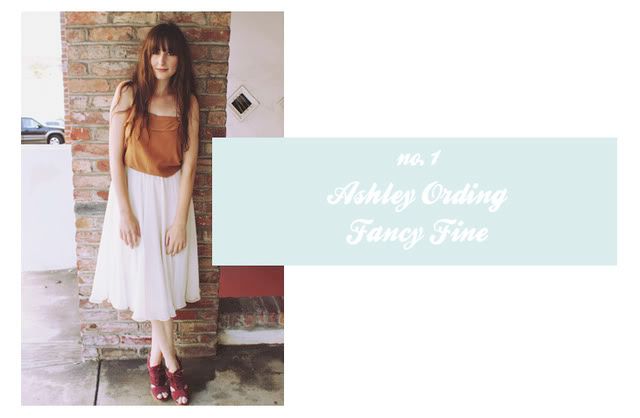 I am excited to introduce to you all a new little segment on my blog, that I (
cross your fingers
) will be routine about and keep up! I hope to spread the inspiration and love through these nice gals.
If you are familiar with Ashley Ording's blog,
Fancy Fine
, you probably love her for her great personality, drool worthy vintage collection, and her ability to belt it out on karaoke. She has such a fun, humble spirit about her that I just adore! Such gal friend material, no?
............................................................................................................................................
1.
Favorite shops?
My favorite places to shop are flea markets, but I also love a trip to Goodwill, Salvation Army, or Thrift Town. My favorite San Francisco vintage shops are Ver Unica, Held Over, and Painted Bird. I also love visiting my hometown up north, Santa Rosa, and ogling all the pretty treasures at Hot Couture and Skirt Chaser Vintage.
2. Current blog crushes?
My crush list is looong! I recently discovered Dakota's blog
Sweetheart of the Rodeo
and I'm completely smitten with her vintage style. Other crushes are
Anabela
,
Hannah
,
Emily
,
Crystal
,
Doris Anne
, and you!
3. Favorite musicians?
As I write this I'm listening to the Crystal Stilts, a newer band that I like very much. But I usually don't keep up with what's new musically, instead I listen to the same old favorites I have loved forever: Patsy Cline, Nina Simone, The Beach Boys, Neil Young, The Kinks, Nick Drake, Yo La Tengo, Syd Barrett, Josephine Baker...
4. Favorite decade?
Lately I've been the most fascinated by the 1920's, probably a result of reading a biography about Clara Bow and watching a lot of silent films. But I suppose my favorite decade would be the present one because I get to enjoy all the lovely bits from every decade that came before!
5. I can't live without my. . .
1950's foldable comb that I always keep in my purse. It's windy here in San Francisco so I'm constantly combing my bangs back into place. Also my navy blue Ferragamos that I wear constantly, my laptop, and my chubby cat Donut. Oh wait, should I have said friends and family instead? Them too! ;)
6. Favorite place to travel?
My new favorite place is Reno, believe it or not. I'm almost hesitant to reveal just how magical it can be because it still feels like a secret, but when I went there a few months ago I had one of the best weekends ever. I'm a sucker for kitsch and Reno IS kitsch. Also, the thrift and antique stores there are crazy amazing and I found the perfect karaoke bar where I could definitely see myself becoming a regular. New York is high on my list too!
7. My dream job is. . .
Pretty much what I'm doing right now, buying and selling vintage. Currently it's not my full time job but I'm hoping to make that transition sometime in the near future. I love nothing more than searching high and low for beautiful vintage pieces and then finding them a new home. I also wouldn't mind being the singer for a jazz band, I just have to find the perfect group of talented old men to be my musicians! They have to be old men, obviously... preferably wearing suits and bow ties.
8. Current obsessions?
I'm pretty obsessed with the burgers at Super Duper Burger, which just opened a short walk from my apartment. I'm also obsessed with my upcoming trip to New York, making plans for my blog and shop, and watching American Pickers (which I only just recently discovered, the downside of not owning a TV).
9. Guilty pleasure?
Karaoke, always and forever! Although at this point I'm past the guilty part... it's just unabashed, geeky love